So You Want to Add Tile to Your Bathroom?
For many people, the thought of remodelling a bathroom can be both exciting and daunting to consider.
Once you have decided you want to make some changes, looking for inspiration yields far more ideas than you were hoping for.
With so many choices, you might be tempted to avoid a simple, more sophisticated design for your upgraded bathroom. At the same time, you can still achieve a clean looking bathroom with some level of creativity and fun in the process.
White tile has long been a common element in bathroom designs. However, a few images of a boring, washed-out space are usually enough to make people wright off white tile entirely.
When done correctly, the use of white tile can create a beautiful space.
From subway tiles to river rock, there are many options to choose from, we thought we would outline a few of our favorites to give you an idea of what white tile done right could look like in a finished space.
Keep reading to get some inspiration for your next remodel.
Subway Tile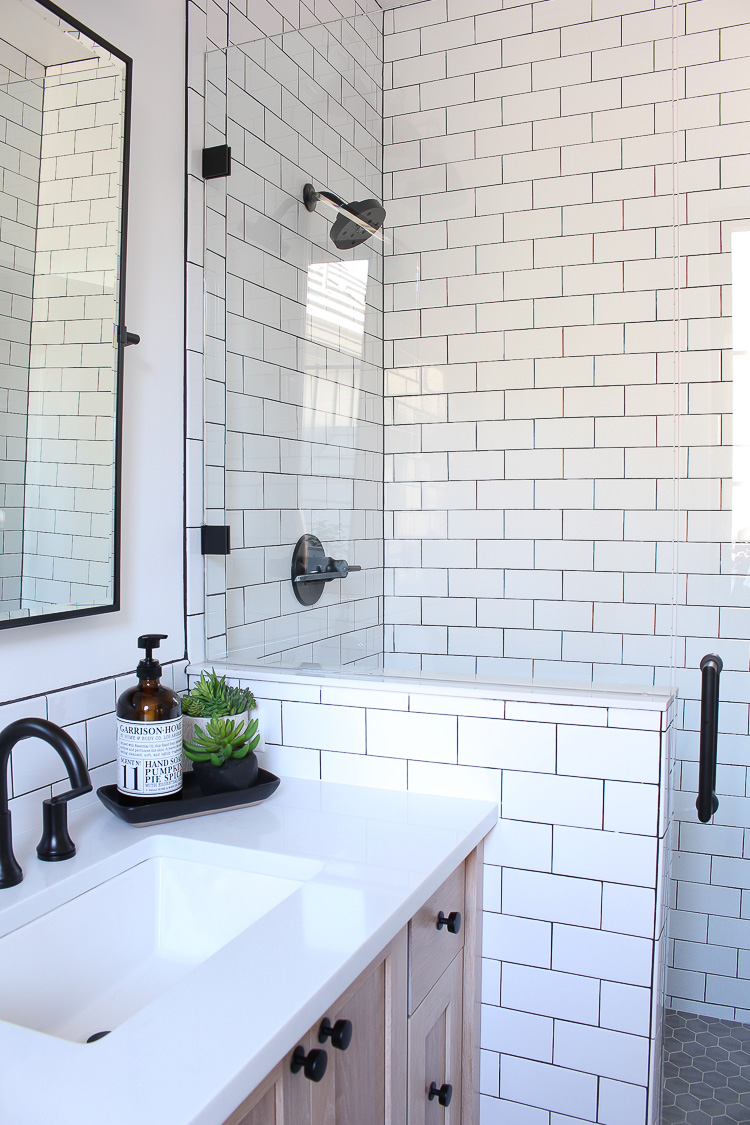 PHOTO: THE HOUSE OF SILVER LINING
Subway tile has been a growing trend in both the kitchen and bathroom spaces. The great thing about subway tile is that it can be used pretty much anywhere you want it to go. White subway tile makes for a great countertop, backsplash, or even shower. When installing it, you can choose from a variety of colors for the grout. This choice can help your subway tile stand out as much or as little as you want.
A common trend is to use a dark grey or black grout to bring out the patterns of the tile. This also helps to set you up with opportunities for other dark accents in your design. If you are looking to create a sophisticated space with some classic charm, this could be a great option for you. Subway tile is such a versatile design element that it is a great choice for customizing your bathroom to exactly the way you want it.
Geometric Tile 
PHOTO: BRIT MEDIA
If you want your tile to become more of a statement piece, you can use geometric tiles to create a pattern. This trend is very popular in bathroom flooring and adds a whole lot of character to the space. A great thing about this tiling option is that it can give you a lot of freedom to play with different shapes, colors, and patterns to create an eye-catching centerpiece for your bathroom.
Often times, like in the pictured bathroom above, white tile is paired with a darker tile. This adds decoration to the space without it needing to be filled with rugs and other furnishings. A geometric design can also make a space look bigger through the clever use of lines that draw the eye from point A to point B. For those looking for a statement piece in their bathroom, this geometric tiling option is a great choice.
River Rock 
PHOTO: CENTSATIONAL STYLE
One final great option we wanted to share in this post is the use of river rock tiling. This is a great choice for those looking for a more natural flair in their bathroom. The slight variation in stone colors provides a beautiful mosaic that draws the eye. And you can find all sorts of color combinations to utilize. From different shades of white with low contrast, to white and black with high contrast, the combination you choose will determine how eye-catching of a feature it becomes.
River rock makes for a great accent in showers and is a very popular option for shower floors in specific. Not only does this create a beautiful natural feature, but it will also give the feeling of being outside on a riverbank right at home.
That is it for our roundup of some beautiful white tiling options for your next bathroom remodel project.
We hope you have been able to find some inspiration through these ideas. Whether you are looking for the clean simplicity of subway tile, the eye-catching flair of geometric designs, or the natural feel of river rock, there are many great ways to incorporate white tile into your space. Check more information about tiles.
Stay tuned for more creative ways to use tiling in your home remodelling projects. Check our blog or follow us on instagram.